Regular price
Sale price
£2.99
Unit price
per
Sale
Sold out
Grapefruit 
Shower Cleaner Refill Drop
Buy a single refill drop if you have an empty bottle already
Option to buy with our reusable glass spray bottle
Just drop, shake, and clean!

Letterbox friendly
Add your own water- 94% lower carbon footprint
See our full range of refill drops for all your cleaning needs here.
WHY WE LOVE THEM 
Cleaning shower door streaks, watermarks, grime...you get it!
Our shower cleaning refill drop dissolves easily in water so you can reuse old cleaning bottles or you can opt for the glass bottle bundle and refill forever! 
Our shower cleaner makes washing away build up of dirt super simple, whilst also being kind to the planet. Scented with grapefruit essential oils, this cleaner will leave surfaces and glass streak-free.

Our cleaning refill drops are made in the West Midlands, so they have a super low carbon footprint! And they're 100% plastic-free and vegan.
The refill drop is made from a PVOH film which is a safe alternative to plastic. Once dissolved in water it biodegrades in just a couple of weeks and leaves no microplastics.
WHAT'S IN THE BOX
1X Grapefruit scented refill drop
Instructions and information label - To answer all your questions!
Recyclable/ compostable cardboard box
WHY SWAP?
Want to reduce your plastic consumption, and introduce non-toxic solutions into your cleaning routine?
The majority of cleaning products come in plastic bottles, and a shocking fact is that only 10% of the plastic we throw away actually gets recycled.  
One of the little things we can do that make a big impact is reusing as much plastic as possible. So, save your old cleaning bottles, and any other unused container and switch to buying refill sachets instead! 
All you need is one of our reusable glass bottles, or an old one you've got stored away, a sachet, and water! This way you're reducing your plastic consumption, with no compromise on quality. The best part? Our products contain no harsh ingredients, and when the solution is formed, has a shelf life of a year!
DIRECTIONS FOR USE 
It's as easy as 1-2-3!
Drop the sachet into your bottle of choice.

Fill the bottle with luke warm water ( the instructions label will tell you how much).
Give the bottle a shake, and you're good to go!
WHAT INGREDIENTS ARE USED?
In collaboration with Iron & Velvet, we have created our products with natural ingredients.
The products that make up the cleaning sachets are plant derived, and sustainably sourced. The sachets that are fragranced use pure essential oils. When the product is diluted it's compromised of 99% natural ingredients!
| | |
| --- | --- |
| Shower Cleaning Solution | Ingredients: 30% Non-ionic Surfactant, 5 > < 15% Parfum, < 5% Aliphatic Hydrocarbon  |
SAFETY INFORMATION
Once the product is diluted according to the instructions label it is classified as non-hazardous.
The below warnings only apply to the concentrated sachet.
Shower Cleaning Sachet


DANGER: This product, when concentrated, is harmful to aquatic life with long lasting effects. Can cause serious eye damage and skin irritation. Wearing protection is advised and always wash hands thoroughly after handling the product. IF IN EYES: Rinse cautiously with water for several minutes - remove contact lenses if present and easy to do so - continue rinsing, and immediately call a doctor. IF ON SKIN: Remove any contaminated clothing and wash skin with plenty of water. If skin irritation occurs, seek urgent medical advice.

 

Contains: Lactic Acid 

Allergens =Limonene
STORAGE INFORMATION
Store your cleaning sachet in a cool, dry place, and away from direct sunlight. Keep in an area that is between 5°C and 21°C. Keep out of reach from children and pets.  Never use a sachet neat, always dissolve in water as directed. Test on a small inconspicuous section before use. Products may not be suitable for use on some surfaces.
Share
View full details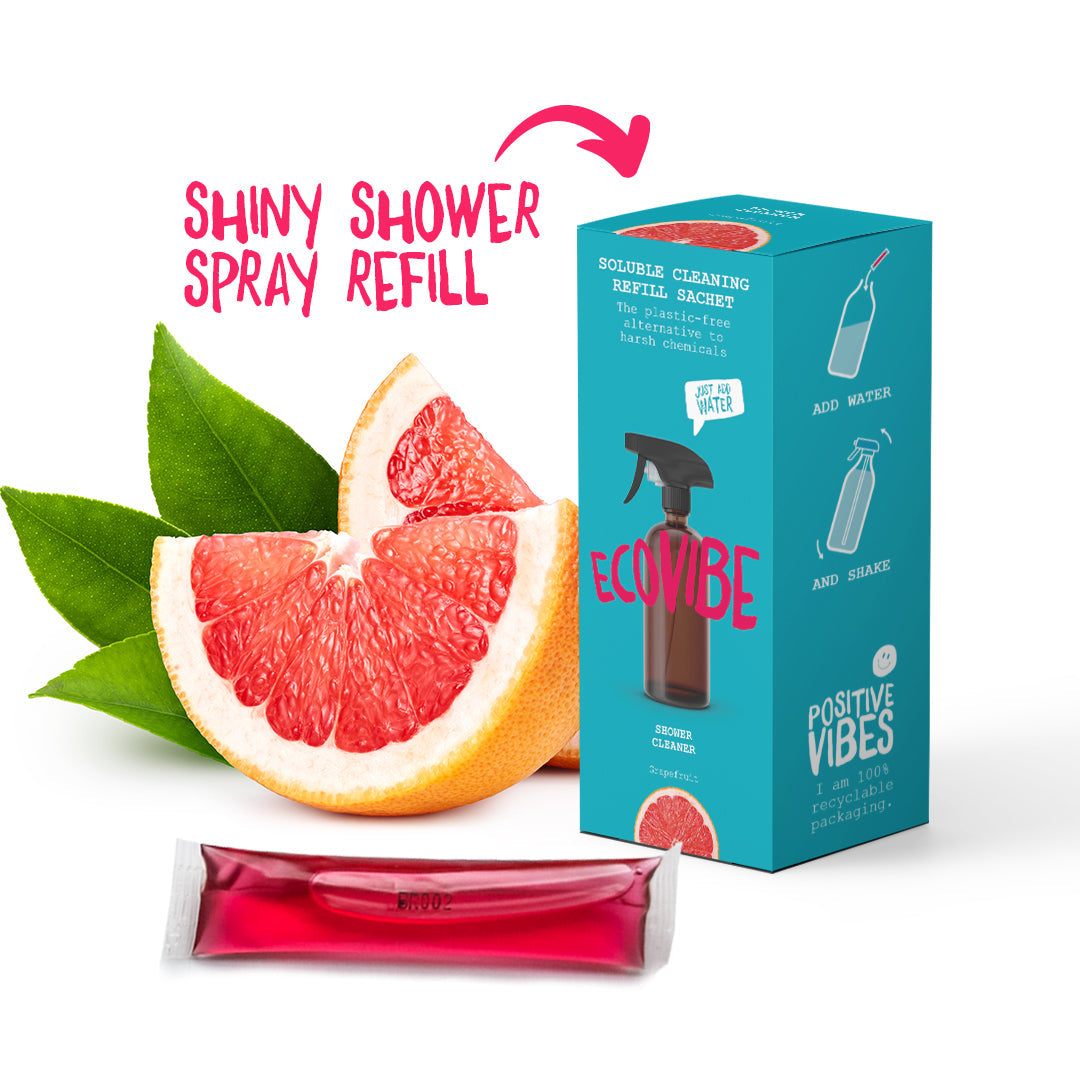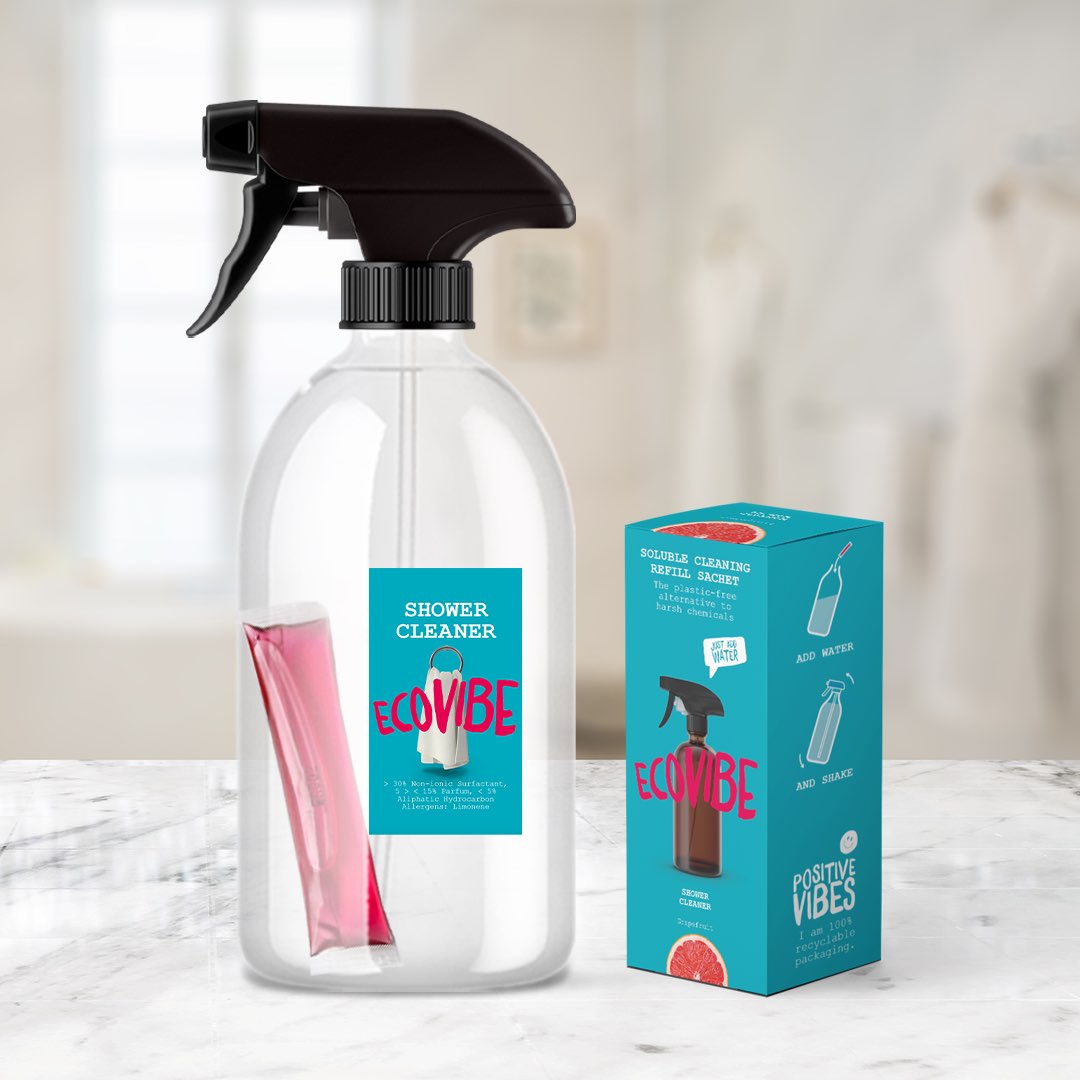 Brilliant!!!
Sachet dissolves completely and gives a fresh smelling shower cleaner which works perfectly!! Comes with a handy bottle label. Plastic free!!!!!