Regular price
Sale price
£3.99
Unit price
per
Sale
Sold out
Ideal for plastic-free cleaning and washing up, our 2-pack of compostable eco scourers are made from super absorbent cellulose plant fibre and are 100% biodegradable. A simple and easy swap that is effective at removing dirt, grease and helps with all your cleaning tasks. Our mixed sponge scouring pads are the ideal addition to your plastic-free cleaning regime!
Absorbing and non-scratch scrubbing power combined

Compostable sponge with a sisal scouring side – for lighter scrubbing

Compostable sponge with loofah scouring side – for heavy-duty scouring

Absorb up to 10x their own dry weight

Highly durable and 100% biodegradable

Low-impact, plastic-free packaging

Size of each sponge scourer: 7cm x 11cm x 2cm
Product Description
Eco Scourers
Our eco friendly scourer sponges are not only kind to the planet but durable and effective too! Our compostable scourers might be made from plants, but they've got incredible non-scratch scrubbing power. Each pack of our plastic-free scourers contains two types:
Compostable sponge with sisal scouring side - for lighter scrubbing
Compostable sponge with loofah scouring side - for heavy-duty scouring
Our duo pack of sponge scourers is perfect for any cleaning job around the house – whether it's washing the pots, cleaning the bathroom or scrubbing other hard surfaces. Totally plastic-free and made from natural materials, these eco scourer pads are super absorbent, soaking up 10x their own dry weight.  
How to Take Care of Your Eco Scourers
Keep your sponges as dry as possible between uses to minimise nasty bacteria.
Sterilise by soaking for a few minutes in boiled water, by microwaving or putting in the dishwasher with a drying cycle.
Why We Love the Eco Scourers
EcoVibe Compostable Sponge Scourers are our new favourite cleaning accessories! The sponge part is made from cellulose (a natural wood fibre), and each sponge features a natural scourer pad side. One is made from sisal cactus fibre (for every day scouring) and the other is made from loofah plant layers (for tougher scrubbing power). They are 100% biodegradable, plastic-free & non-toxic to the environment.
They are durable and will last for months with no bad odours. They also require less soap than a traditional sponge scourer and produce more suds for easier cleaning!
These sponge scourers are great for doing the dishes, cleaning bathroom surfaces and kitchen countertops, as well as everyday spills. They're absolutely perfect for cleaning all around the house.
Each sponge can absorb and retain up to 10 times its own weight in water and can last through many tough cleaning jobs! They're hygienic, durable, environmentally-friendly, reusable and fully biodegradable, made from 100% cellulose which is natural wood fibre. That means these wonderful sponges are 100% plastic-free - no microplastics!
Why Swap to Compostable Eco Scourers
Most common kitchen sponges are made from plastic and can't be recycled or composted. They're usually only used for a couple of weeks to clean the kitchen and kitchen appliances before they're thrown away, where they'll contribute to plastic pollution for hundreds of years before eventually breaking down into microplastics.
What's more, mass-produced synthetic sponges are all made with petroleum, bleach, assorted sulphates and a whole slew of nasty chemicals. Even after you throw old sponges away, the bacteria-killing triclosan they're filled with negatively affects aquatic ecosystems, especially algae that other animals depend on.
But don't worry, these cellulose sponges are a great alternative to chemical-filled plastic sponges! These sponges are made from wood fibres which are much more eco-friendly as they go through a less toxic manufacturing process and they are biodegradable too.
For more information about our eco-labels, click here. 
Share
View full details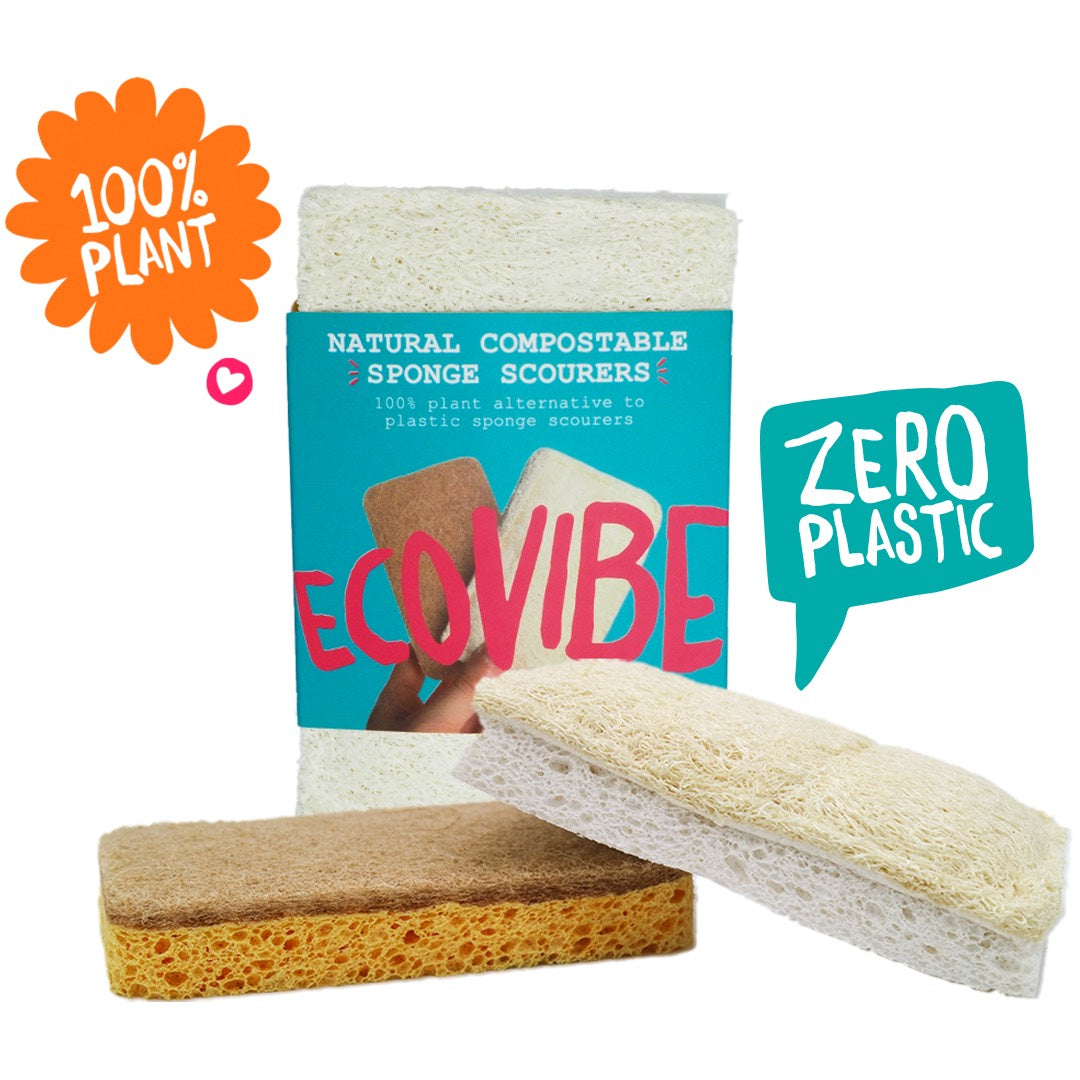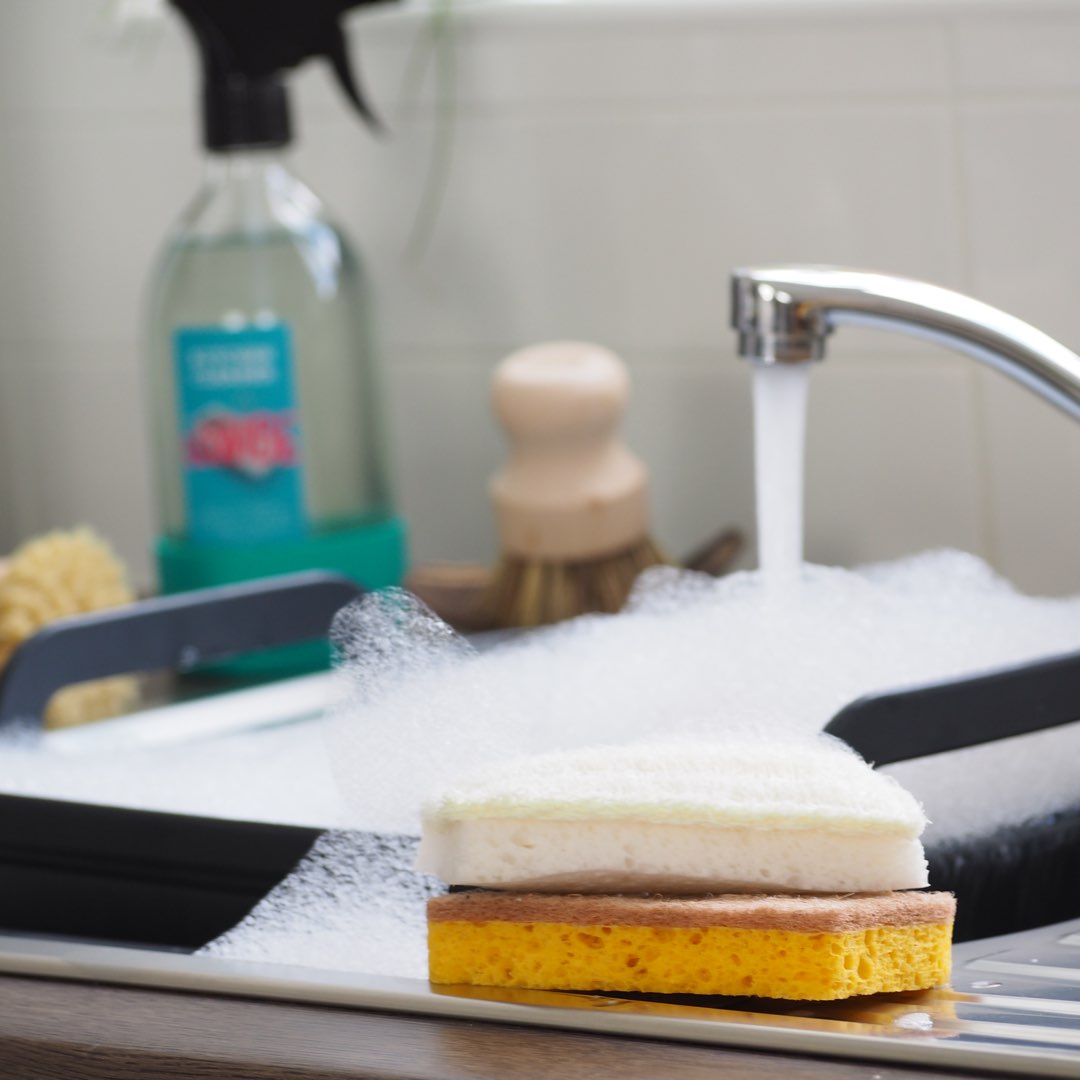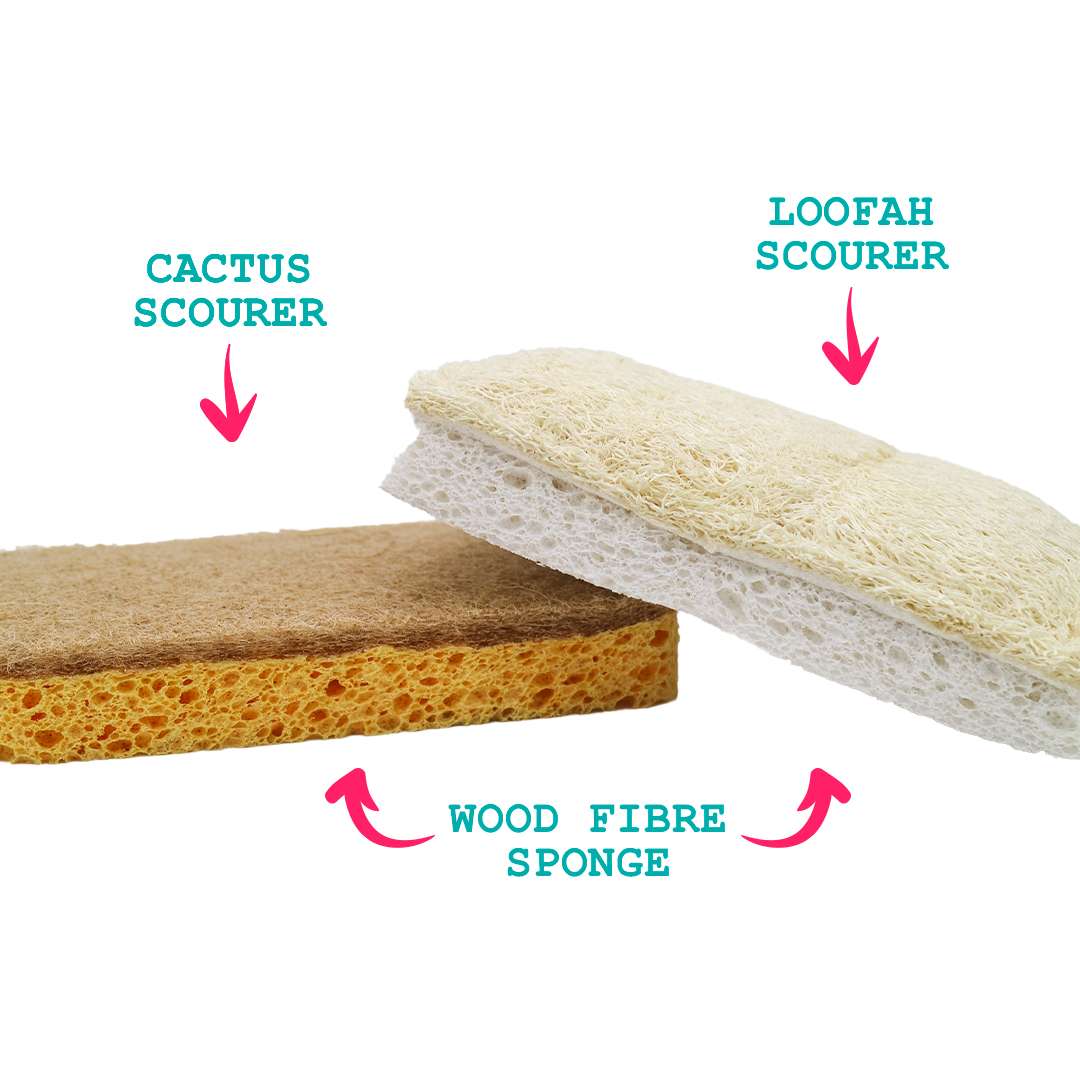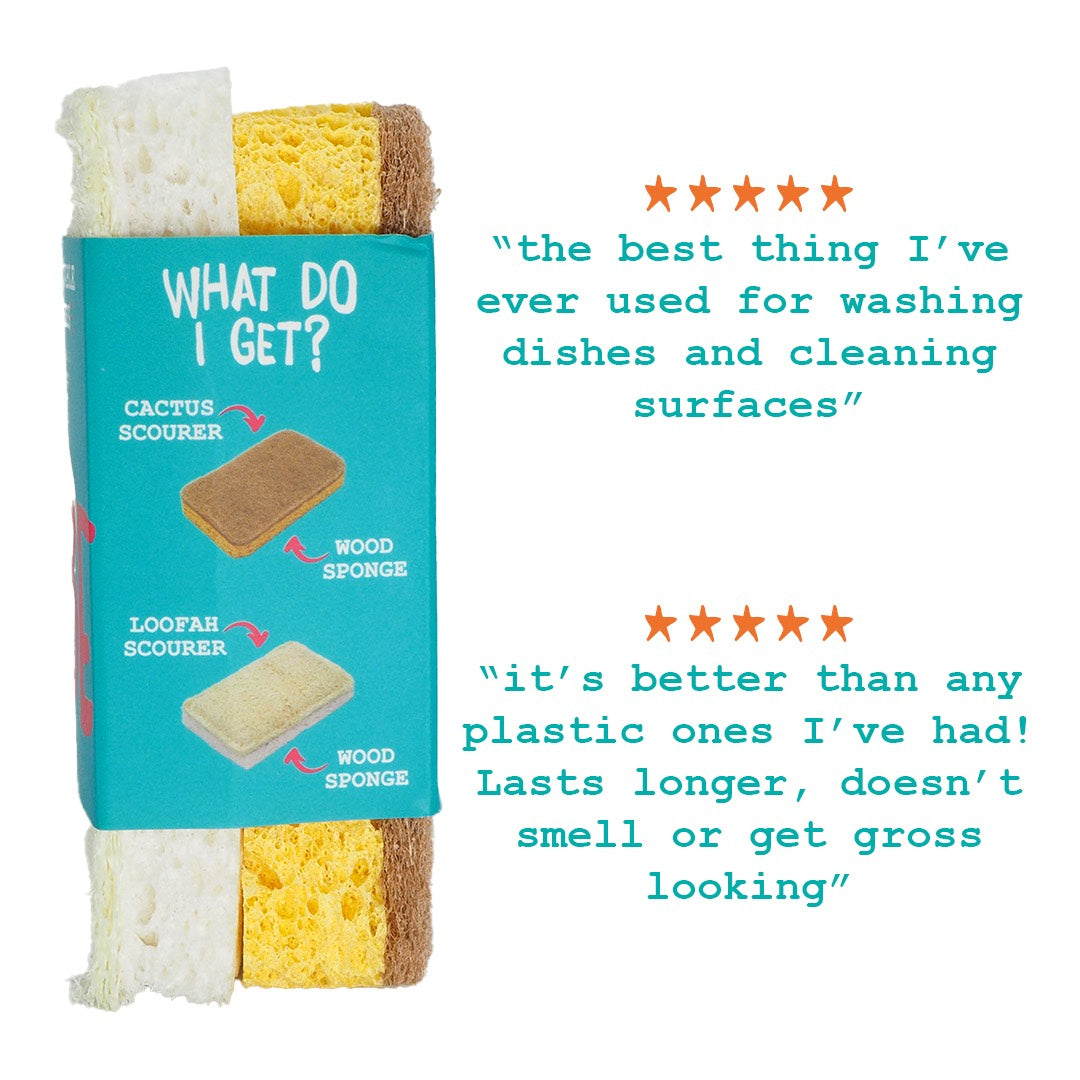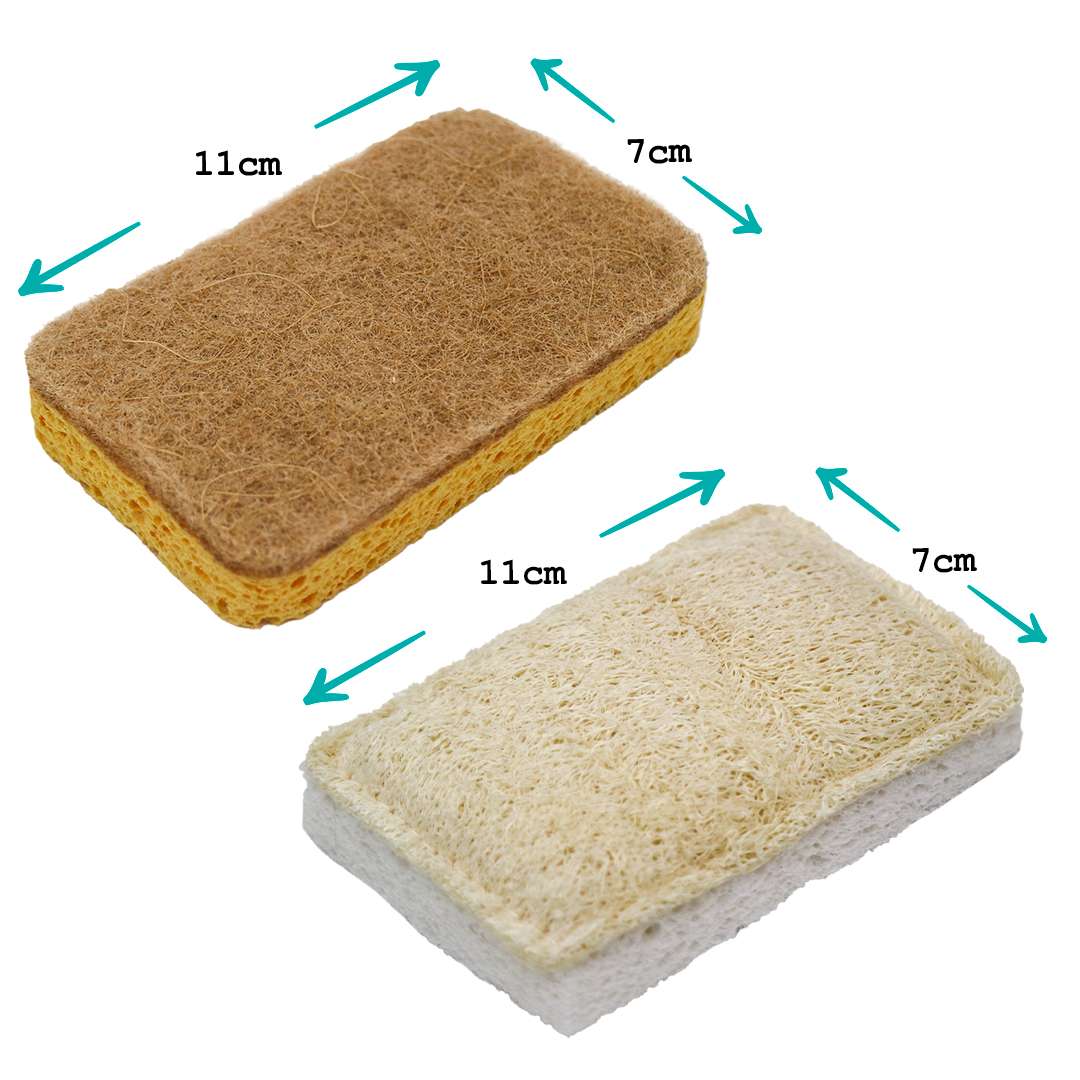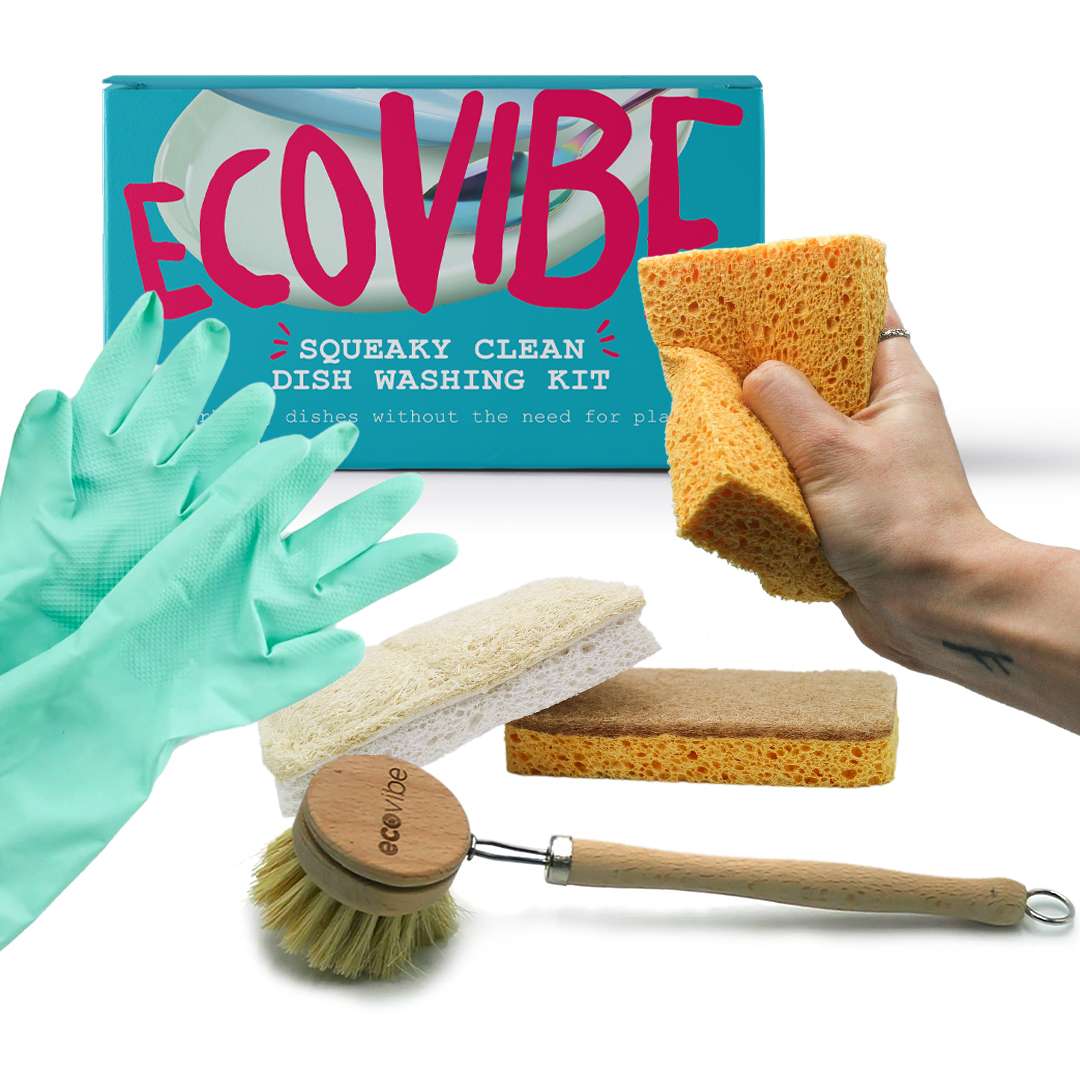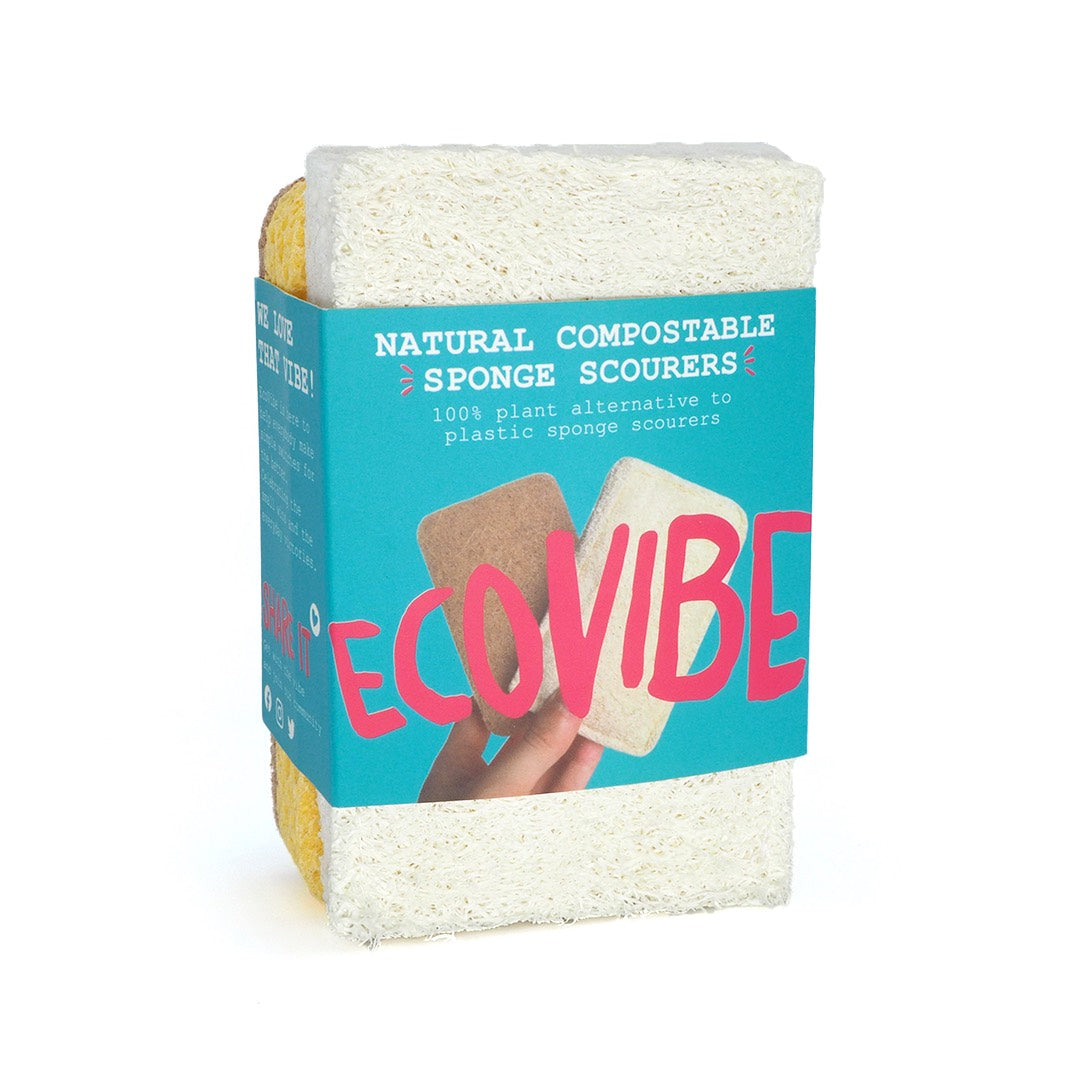 Really Super scourers!
I can't believe what great eco sponge/scourers these are! Thoroughly recommend them! They do a great job, and are much better than those horrible plastic things! I am definitely buying more! What surprised me was how durable they are. No excuse now! Get them in your basket!
Works really well
I have had these for 3 weeks now and only used the cream colour one so far but I like it. It cleans well, dries quickly and stains, like tomato, wash off it.
I have quite small hands and would, therefore, say this is a little large, it's also a bit large to fit into cups and glasses but if I were to cut it in half it would then be too small. Could do with being a third smaller. Other than that I'm very pleased with it and would recommend
Fingers crossed!
I love the fact that these sponges will not be shedding microplastics into our waterways and that they are compostable when no longer useable. However, like another reviewer, I've had a variable experience of their durability. If Ecovibe can sort this out, then definitely 5 stars.
Great alternative, long lasting!
Love these scourers, work as well as any conventional one and last a long time. Agree with a previous reviewer that the two sides of the sponge do separate quite easily - this didn't happen with my first batches, seems to be a recent thing? If you've changed anything EcoVibe, go back to the original!! Still would choose them over supermarket options any day.
Must have Compostable Eco Scourer Pack
Both pads are excellent for washing up & cleaning kitchen worktops, ect. They are long lasting, it was over a year before I needed to replace my original 2 I had bought!! 🧽😍😎